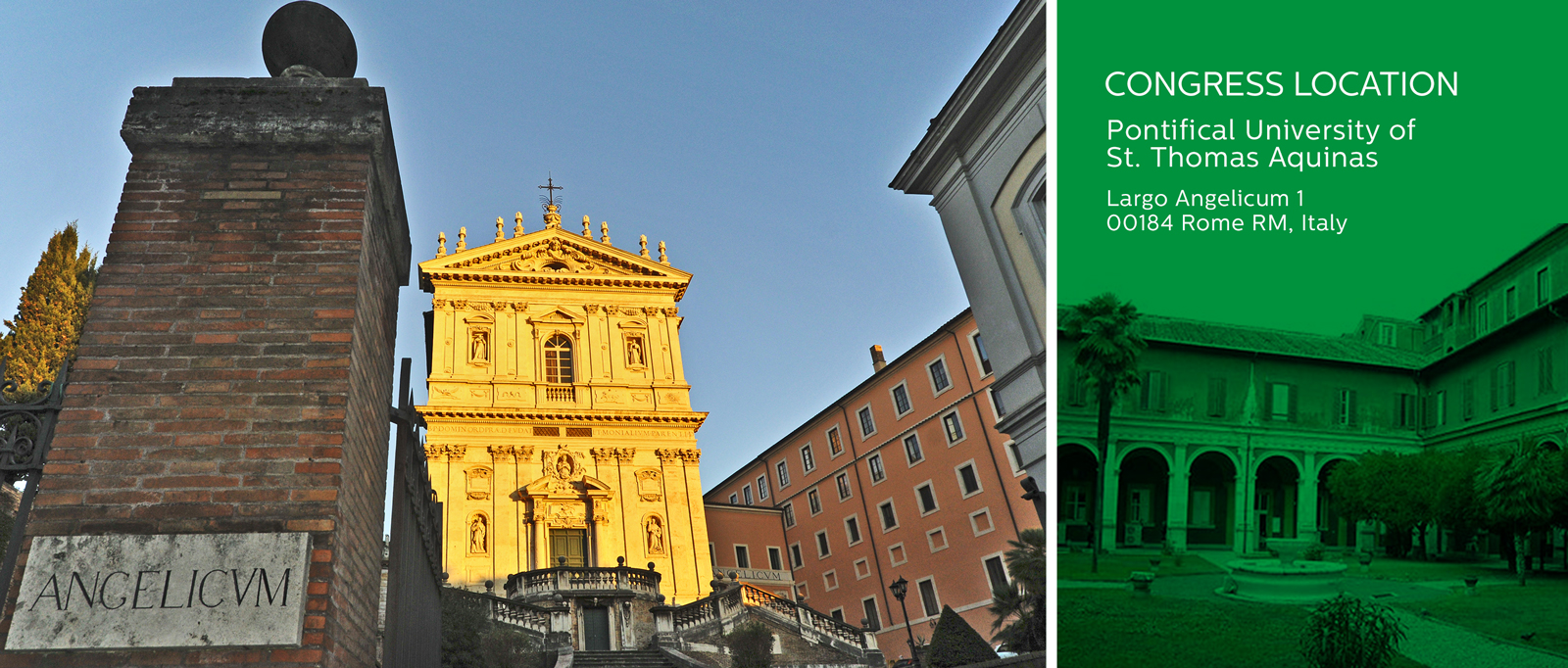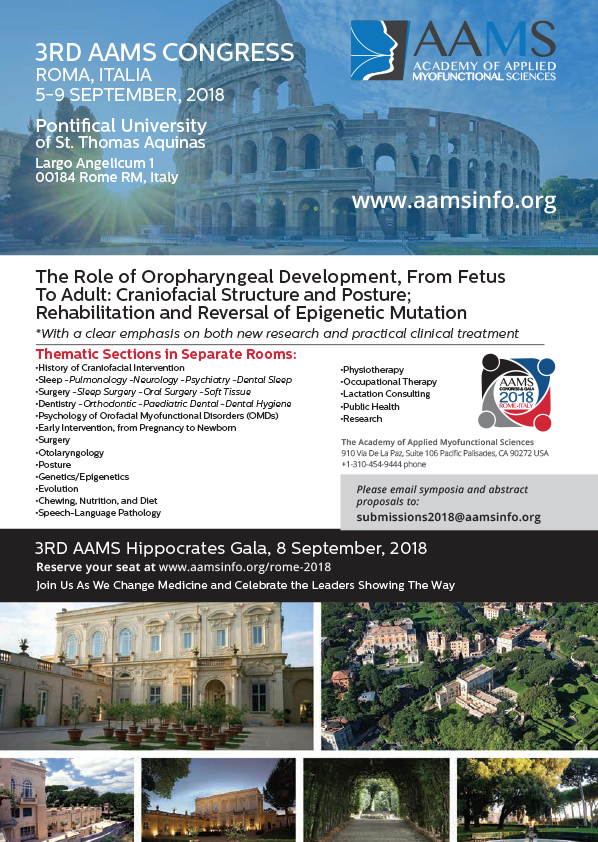 ---
"The Role of Oropharyngeal Development, From Fetus To Adult: Craniofacial Structure and Posture-Rehabilitation and Reversal of Epigenetic Mutation"
*With a clear emphasis on both new research and practical clinical treatment
---
Thematic Sections in Separate Rooms

•History of Craniofacial Intervention
•Sleep -Pulmonology -Neurology -Psychiatry -Dental Sleep
•Surgery -Sleep Surgery -Oral Surgery -Soft Tissue
•Surgery
•Otolaryngology
•Posture
•Genetics/Epiginetics
•Evolution
•Chewing, Nutrition, and Diet



•Dentistry -Orthodontic -Paediatric Dental -Dental Hygiene
•Psychology of Orofacial Myofunctional Disorders (OMDs)
•Early Intervention, from Pregnancy to Newborn
•Speech-Language Pathology
•Physiotherapy
•Occupational Therapy
•Lactation Consulting
•Public Health
•Research
Submit Abstract & Symposium Submission
---
3rd AAMS GALA
VILLA AURELIA, ROME, ITALIA | SEPTEMBER 8, 2018
---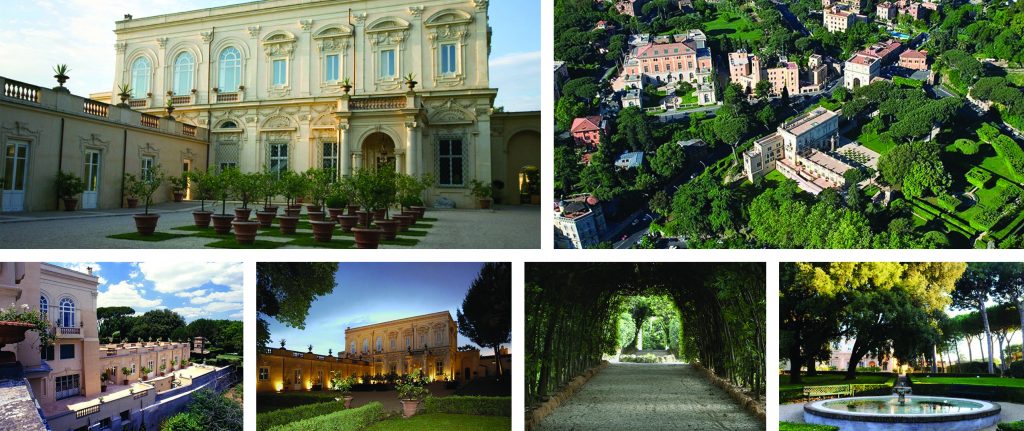 Villa Aurelia | Largo di Porta San Pancrazio 1 | 00153 – Roma – Italy | www.villaaurelia.it
---
---
---
GENERAL FEE INFORMATION
---
Full Congress
DENTISTS, ORTHODONTISTS, PHYSICIANS
EARLY BIRD REGISTRATION | $625 USD // $530 EURO
AFTER MARCH 31ST | $780 USD // $645 EURO
THERAPISTS (SLP, RDH, OT, BBE, etc)
EARLY BIRD REGISTRATION | $395 USD // $340 EURO
AFTER MARCH 31ST | $525 USD // $435 EURO
STUDENTS ( Identification required )
EARLY BIRD REGISTRATION | $250 USD // $210 EURO
AFTER MARCH 31ST | $325 USD // $270 EURO
---
One Day Registration
DENTISTS, ORTHODONTISTS, PHYSICIANS
PER DAY$350 USD // $300 EURO
THERAPISTS (SLP, RDH, OT, BBE, etc)
PER DAY$250 USD // $210 EURO
STUDENTS ( Identification required )
PER DAY$125 USD // $105 EURO
---
CLICK HERE TO REGISTER FOR THE CONGRESS
---

---
MORE INFORMATION WILL BE POSTED FOR OUR WORKSHOPS REGISTRATION.
PLEASE KEEP CHECKING BACK
SPONSORSHIP & EXHIBITING OPPORTUNITIES
Sponsorship descriptions and respective benefits.
The 3rd AAMS Congress & Hippocrates Gala offers a variety of sponsorship opportunities. From inclusive sponsorship packages to tote bags inserts, the Congress & Gala have several options to accommodate your visibility objectives, resources, & budget.
---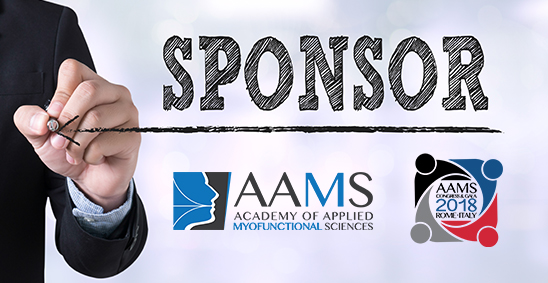 * The Sponsorship packet is a partial list of available sponsorship opportunities.
For more details about our various sponsorship packages, please contact
Marc Richard Moeller, AAMS Executive Director by sending him an email at marc@aamsinfo.org or call him at +1 310-382-7852
---

Sponsorship and exhibiting at the 3rd AAMS Congress & Hippocrates Gala gives you an opportunity to connect with your target audience, the academic community, the general public as well as allowing you to build networking relationships with interdisciplinary, allied health professionals and respective trade associations.
You will be in the company of some of the world's foremost researchers, teachers, and health professionals dedicated to helping individuals with orofacial myofunctional disorders, their families and those that support them.
Your sponsorship will also help support structured advancement and training required to help thousands of people suffering from OMDs.

---
---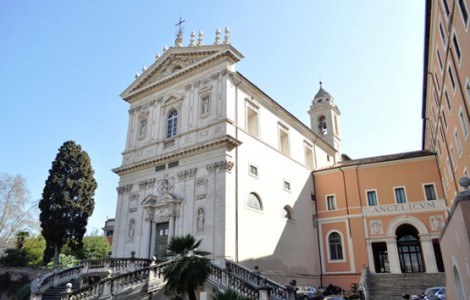 Pontifical University of
St. Thomas Aquinas
Largo Angelicum 1
00184 Rome RM, Italy
Tel. (+39) 06.6702354
Fax: (+39) 06.6790407
Email: segreteriagenerale@pust.it