A critical review of orofacial myofunctional therapy
& sleep disordered breathing: phenotyping, clinical markers,
and early intervention

Associate Society Affiliate Meeting and Satellite Symposium of the World Sleep Congress
Vancouver, British Columbia | Sunday September 22, 2019

*We hope all will join us for the AAMS Symposium at the World Sleep Congress September 20-25, in Vancouver, British Columbia. It is a historic occasion for our emerging field of orofacial myofunctional therapy (OMT) with dozens of presentations touching on OMT in the main congress program & scientific sessions in addition to the AAMS Symposium
(which may be added as a course to the full congress registration at no charge).
---

Obstructive sleep apnea (OSA) is increasingly common sleep disorder with heterogeneity in clinical presentation and pathophysiology. In recent years, contributing causes or phenotypes have been identified and includ: airway collapsibility, impaired pharyngeal dilator muscle function, lowered arousal threshold and loop gain.

Increased understanding of the pathophysiology and phenotyping of sleep disordered breathing (SDB) traits can improve the success rate of targeted treatment such as myofunctional therapy, alone or in combination with other treatments in mild and moderate OSA. This highlights the need for further research and the need to develop simple phenotyping tools for SDB related muscle function.

Orofacial myofunctional therapy (OMT) represents a novel, non-invasive strategy to treat sleep disordered breathing including OSA (Guilleminault 2013, Camacho 2015, Camacho 2018). Recent evidence has supported its usage in children with residual OSA following adenotonsillectomy (Villa 2015, Guilleminault 2017, Felicio 2018). Further, OMT may represent a novel paradigm of therapy that may prevent pediatric OSA (Sullivan 2017). Standardized treatment modalities, models for detection of orofacial myofunctional disorders, and clear understanding of the related phenotypes, however, are yet to be established.

This symposium will critically evaluate the recent evidence on OMT, while exploring what is known clinically that may be of immediate interest to those working in sleep medicine who wish to apply a robust, multidisciplinary approach including ENT, orthodontic, pulmonary, and OMT intervention.
SPONSORSHIP OPPORTUNITIES
Sponsorship descriptions and respective benefits.
The Sleep Medicine and Research Foundation offers sponsorship opportunities for this event.
---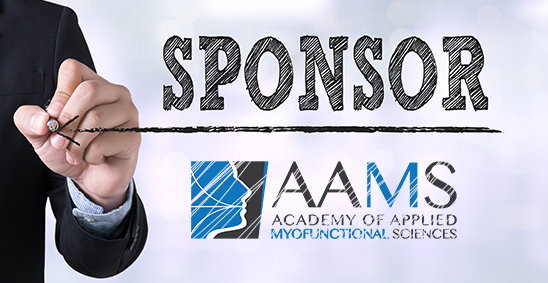 Sponsorship at this event gives you an opportunity to connect with your target audience, the academic community, the general public as well as allowing you to build networking relationships with interdisciplinary, allied health professionals and respective trade associations. Your sponsorship will also help support structured advancement and training required to help thousands of people suffering from sleep disorders.

---
* For more details about our various sponsorship packages and opportunities, please contact Marc Richard Moeller by sending him an email at marc@aamsinfo.org or call him at +1 310-382-7852
---
SPEAKER SCHEDULE
A critical review of orofacial myofunctional therapy & sleep disordered breathing:
phenotyping, clinical markers, and early intervention

CO-Chairs
S. Keenan & M. Moeller

13:00 – 13:15 – Introduction: The emerging area of myofunctional therapy; why sleep disordered breathing?
M. Richard Moeller, USA
13:15 – 13:42 – Should the kids breathe through nose or mouth? Implications of early treatment of respiratory dysfunction
T. Ono, Japan
13:42 – 14:09 – Impaired pharyngeal dilator muscle function in OSA; a phenotype for new modalities of treatment
V. Koka, France
14:09 – 14:24 – Orofacial Myofunctional Therapy (OMT) for obstructive sleep apnoea
B. Fung, Hong Kong
14:24 – 14:51 – Stick your tongue out: OMT and its place in pediatric OSA
R. Bhattacharjee, Canada
14:51 – 15:01 – The certification paradox: balancing excellence and access in orofacial myofunctional therapy
D. Logmahnee, USA
15:01 – 15:21 – Break
---
Please Note:
Speakers and Presentations may change without notice

15:21 – 15:48 – Need for Orthodontic Treatment Under the Age of Seven: A Predictor of Increased Risk for Sleep Related Breathing Disorders (SRDB)
K. Boyd, USA
15:48 – 16:10 – Oral Dysfunction and Sleep Meet Education: A Collaborative Four-Part School-Based Model for Screenings
N. Archambault, USA
16:10 – 16:32 – Oronasal abnormalities and dysfunctions in persistent sleep disordered breathing
J. Cohen-Levy, France
16:32 – 16:52 – Orofacial Myofunctional Therapy in the mouth breathing patient: An interdisciplinary approach and its place in sleep medicine
S. Weber, Brazil
16:52 – 17:07 – Pediatric OSA and the interdisciplinary team: the addition of myofunctional therapy to standards of care for the French Orthodontic Society
M.K. Lê-Dacheux, France
17:07 – 17:17 – Dentists need more than drills: the American Dental Association embracing whole person health
S. Carstensen, USA
17:17 – 17:35 – A call for education and synergistic collaboration
S. Keenan, USA
VENUE INFORMATION
VANCOUVER CONVENTION CENTRE
West Building | 1055 Canada Pl
Vancouver, BC V6C 0C3
---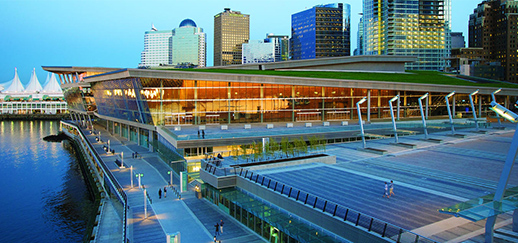 The award-winning Vancouver Convention Centre is located in the heart of downtown Vancouver.

---

Located on Vancouver's waterfront with a dramatic mountain backdrop, the award-winning Vancouver Convention Centre offers one of the most beautiful settings in the world and convenient access to all the major visitor amenities in the downtown core. As British Columbia's flagship convention centre, the facility hosts more than 500 events and welcomes hundreds of thousands of attendees each year, while generating significant economic activity for the province.

At the Vancouver Convention Centre, you're at the centre of it all. Thousands of quality hotel rooms are steps away. So are a variety of restaurant, entertainment and retail options and a vibrant nightlife. And our harbourfront setting offers unique access to a variety of recreational opportunities in a spectacular, scenic setting against a backdrop of mountains, ocean and parks.