---


---

2019 AAPMD, ACAM, AAMS AIRWAY SUMMIT
COLLABORATION CURES


The Mission
In the past few years, a growing body of evidence supports the belief that the epidemic of chronic diseases have common origins. Cardiovascular disease, diabetes, dementia and even cancer as well as learning, performance and behavior issues have multiple common causes and can take decades to develop.

For the 4th Congress of the AAMS we have been invited to join 2 allied health professional societies at a joint meeting, the AAPMD (American Academy of Physiyological Medicine and Dentistry, www.aapmd.org), and ACAM (American College for the Advancement of Medicine www.acam.org).
This will be a tremendous opportunity to explore interdisciplinary, precision medicine approaches to care, swelling the number of attendees to well over 1000 and swelling the exhibit hall to well over 50 groups present.

The Meeting
We encourage you to check out the entire program. This meeting will feature presentations to the combined groups as well as separate presentations to each on their focus and interest. In addition, there are workshops, case studies, combined receptions and networking opportunities.

Our exhibit hall will feature our passionate corporate supporters offering products and services to supply your practice needs towards a more collaborative path.

The Future of Medicine & Dentistry
We hope that when you leave the conference, you take the spirit of collaboration with you and help us continue to grow it, not just at future annual conferences, but at events, webinars, and communications throughout the year.
---
---
Important Dates
January 10
Registration Open
April 31
Early Rate Ends
August 31
Advanced Rate Ends
September 17
Registration & Hotel
Cancellation Deadline
(No Refunds After Today)
Group Room Block Closes
October 10
Late Rate Ends
October 16-20
Airway Summit
---
Registration Type

Early
(Until April 30)
Advanced
(Until August 31)
Late
(Until October 10)
AAMS Member Doctor
DDS, DMD, MD, etc.

$829

$1049

$1249

AAMS Member Other
Health Professionals & Team Members

$599

$799

$825

Scholar
Student/Resident/Fellow

$399

$399

$399

Non-Member Doctor


DDS, DMD, MD, etc.

$1029

$1129

$1349

Non-Member Other
Health Professionals & Team Members

$829

$899

$1049
Registration fee includes pre-conference workshops, breakfast Friday and Saturday, Welcome Reception, coffee breaks and CE as noted.
REGISTRATION CANCELLATION POLICY: Pre-registration discounted rates are only refundable (minus $75) until February 12, 2019, after this date, the pre-registration rates are non-refundable. Requests for cancellations for any other registration type must be received by September 17, 2019; and a $75 cancellation fee will apply. Cancellations after this date are non-refundable.

HOTEL CANCELLATION POLICY: All hotel reservations require a one-night deposit to be collected at the time of booking. All cancellations requested prior to September 17, 2019 will receive a refund for the one-night deposit. Cancellation after this date are non-refundable. A Meeting by Design strongly recommends the purchase of Travel Guard International Travel Insurance.

Registration Agent of Record: A Meeting by Design has been selected as the Registration Booking Agent for the AAPMD conference. All invoices and correspondence will come from A Meeting by Design; please add info@ameetingbydesign.com to your safe sender list in order to receive important conference information and updates.

Disclaimer: By acknowledging this disclaimer, A Meeting by Design may contact you regarding conference reservations via the phone number, fax, and/or email address that is provided during registration. This also notes that you acknowledge and agree to the conference's cancellation policy. A Meeting by Design will not distribute your personal information for promotional or unsolicited purposes.
REGISTER FOR THE 2019 COLLABORATION CURES MEETING
Preliminary Speakers for 4th AAMS Congress
Hidehiro Abe, DDS | Tokyo, Japan
Nursery schools specialized in pediatric myofunctional therapy: the concept of feeding and swallowing from neonates to prevent oral disfunction
Kevin Boyd, DDS | Chicago, USA
Orofacial Myofunctional Respiratory Incompetence (OMRI): a frequent comorbidity with pediatric malocclusion and sleep disordered breathing
Michelle Emmanuel, OT | Cincinnati, USA
Title: TBA
Yasuo Ito, MD, PhD | Kawasaki, Japan
Usefulness of Simplified Tongue-tie Score in Decision Making for Surgery
Venkata Koka, MD, FRCSEd, DIU | Paris, France
Impaired pharyngeal dilator muscle function in OSA: a non-anatomical phenotype for myofunctional therapy

---
More speakers to follow.

Katrina Rogers, Speech and Language Therapist (SLT), Dysphagia Consultant | Yorkshire, United Kingdom
The effect of tongue-tie on the mechanics of swallow causing aspiration of material into the airway causing ongoing respiratory illness in paediatrics
0-3 years: A case review
Jeff Rouse, DDS | San Antonio, USA
Myofunctional Therapy and Sleep Disordered Breathing
Panel Discussion:
Developing Frenulum Surgery Standards of Care: What's at Stake and How to Proceed
Panel Discussion:
Infant and Pediatric Myofunctional Therapy Intervention
Panel Discussion:
Position Statement on Pediatric Orthodontic Intervention in Sleep Disordered Breathing
Friday, October 19, 2019
AAMS FOURTH HIPPOCRATES AWARD GALA
Help us continue fundraising for the AAMS with entertainment, libations, a gourmet buffet dinner, and a program that celebrates our leaders who fight to make the world a better place, spotlighting distinguished achievement and fund raising objectives of the AAMS.
---
BENEFACTOR PACKAGE $550
Includes all of the benefits from the other packages as well as a recognition in the gala program.
CHAMPION PACKAGE $300
6-7pm Cocktails with our distinguished Congress and Scientific Committee Chair as well as other honored guests.
7-10pm Gala Banquet Dinner.
TRAILBLAZER PACKAGE $175
(7-10pm Gala Banquet Dinner) Gala Banquet Dinner
CONGRESS VENUE
---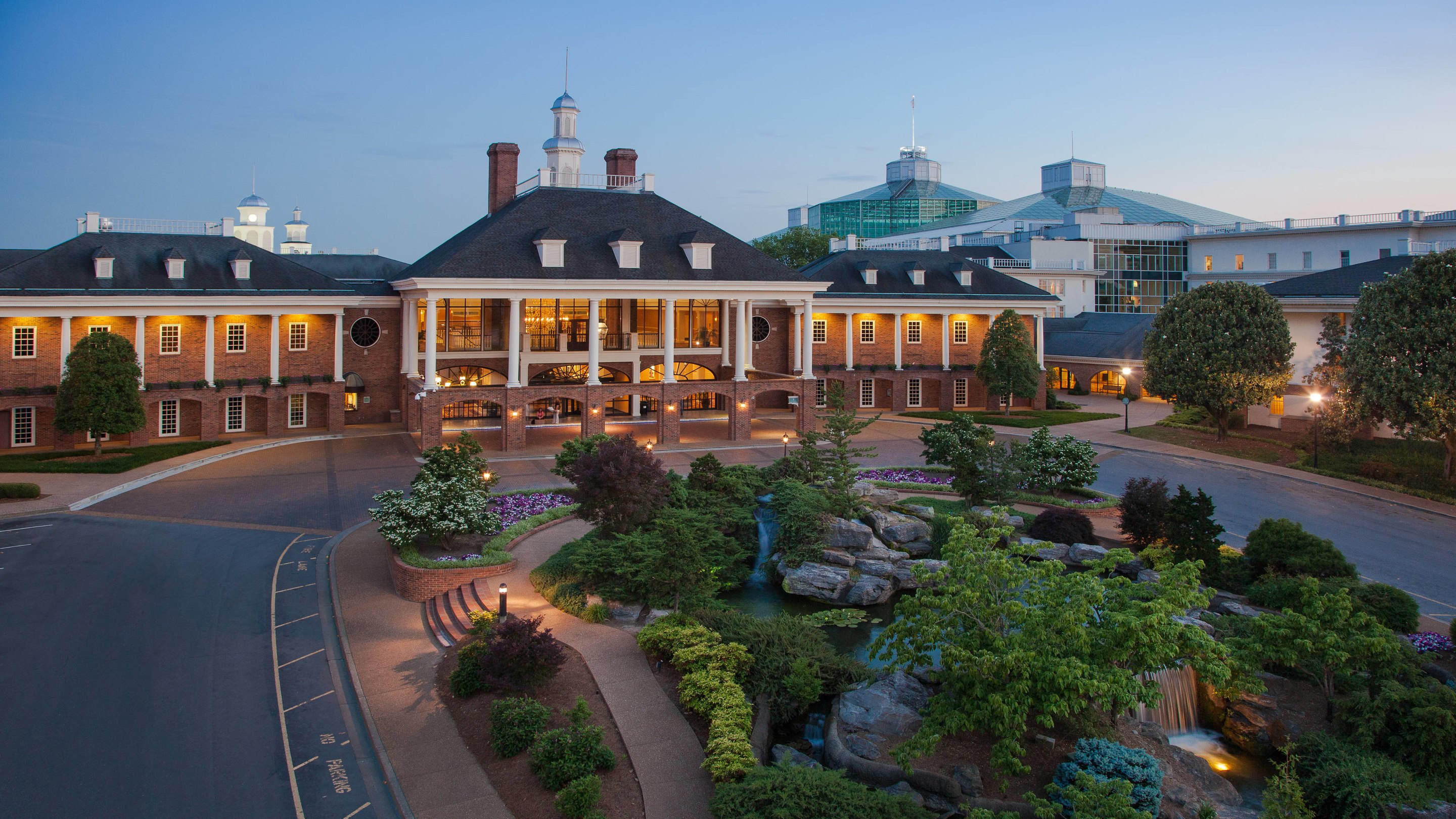 Gaylord Opryland Resort & Convention Center
2800 Opryland Drive
Nashville, TN 37214
Tel. (615) 889-1000
www.marriott.com

Gravitate toward your next great adventure at Gaylord Opryland Resort & Convention Center. Situated in the heart of Nashville, our luxury hotel allows you to hit all the high notes of Music City both in the area and under our roof. Looking to make a splash? SoundWaves, an upscale water experience featuring 4 acres of combined indoor and outdoor water attractions, is scheduled to open right on site in December 2018. Catch a show at Grand Ole Opry and Ryman Auditorium, then return to our 9 acres of lush indoor gardens and cascading waterfalls. We also offer a full-service spa for a more relaxing way to unwind. When it's time to refuel, sip and savor in our stylish steak, Mexican, Italian and Japanese restaurants followed by a frozen yogurt or gelato dessert. When it's time to conduct business, inspire new ideas when you take advantage of over 750,000 square feet of inspiring meeting space. Discover our impressive lineup of amenities when you reserve a getaway at Gaylord Opryland Resort & Convention Center.