COLLABORATION CURES
OCTOBER 17-19, 2019
NASHVILLE, TN
---
HOTEL – THE GAYLORD OPRYLAND
---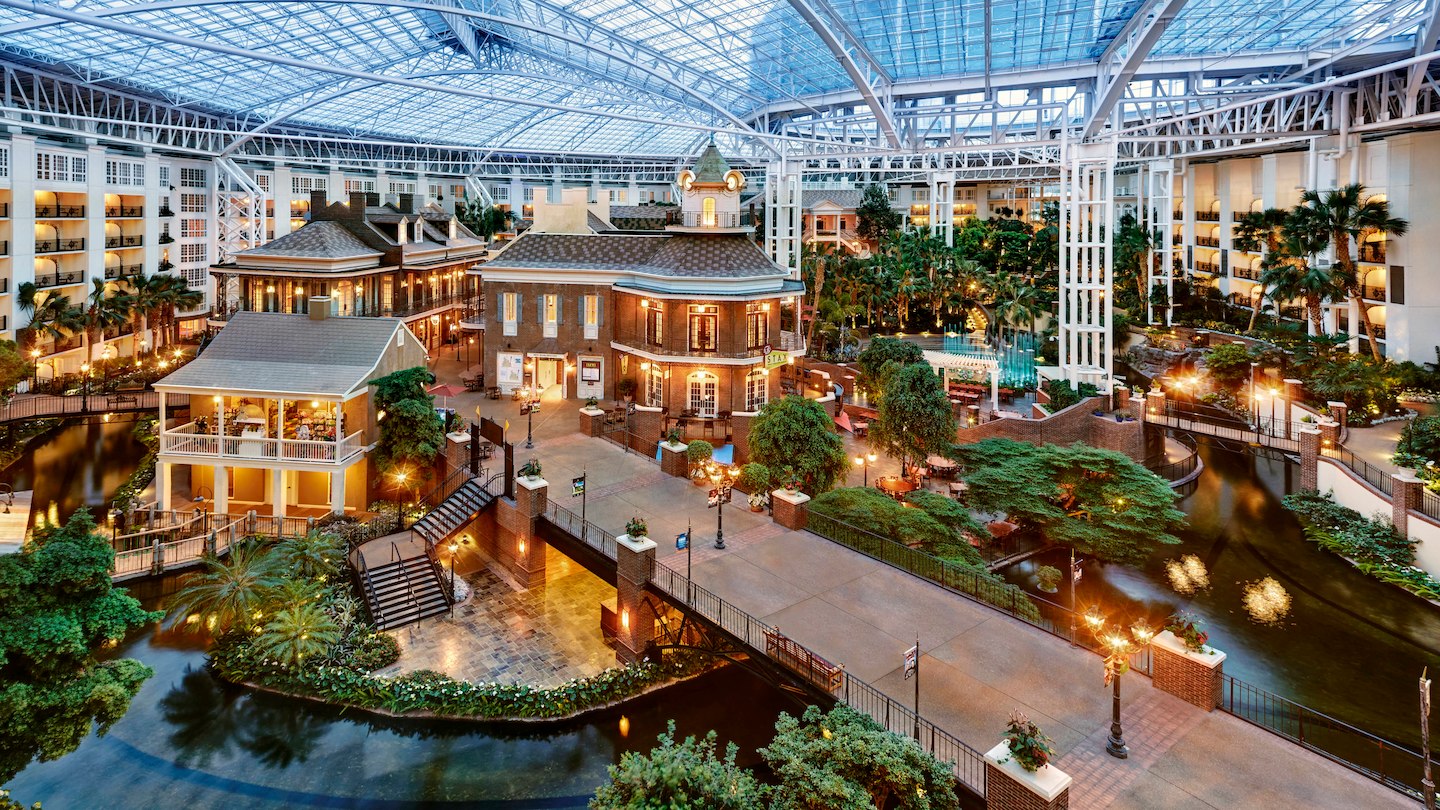 Situated in the heart of Nashville, this luxury hotel allows you to hit all the high notes of Music City both in the area and under their roof.

Catch a show at Grand Ole Opry and Ryman Auditorium.
Enjoy lush indoor gardens and cascading waterfalls.

Bring the kids to SoundWaves, an upscale water experience featuring 4 acres of combined indoor and outdoor water attractions.

Relax in their full-service spa for a more relaxing way to unwind.
Refuel, sip and savor in stylish steak, Mexican, Italian and Japanese restaurants.
Chill out with a frozen yogurt or gelato dessert.
HOTEL RATES
Room Type

# People

Net Rate

Tax
(15.25%, $2.50
Occupancy Fee)

Resort Fee & Tax

Total
Run of House
(king, 2 queens or
1 queen murphy bed)

1-2

$209.00

$34.37

$21.85

$265.22

3

$229.00

$37.42

$21.85

$288.27

4

$249.00

$40.47

$21.85

$311.32

Please Note: Double Queen rooms are limited.
Cancellation Policy: A one night deposit plus tax will be collected at time of booking. Cancellation received before September 30, 2019 will receive a refund for deposit. Cancellations requested after this date will not be refunded. VIEW FULL POLICY

Scam Alert: It is important to note that A Meeting by Design is the authorized housing authority for the ACAM & AAPMD combined meetings at The Gaylord Opryland in Nashville. It is becoming increasingly popular for "Room Pirates" to utilize an organization's website to obtain information about Exhibitors and Members. This information is used to contact individuals and ask you to book a hotel reservation for the meeting. DO NOT PROVIDE YOUR CREDIT CARD AS IT MAY BE COMPROMISED BY THIS SCAM!

TRANSPORTATION
Round-Trip Airport Shuttle
Save with a round-trip airport shuttle pass for only $35. Look for the Gaylord Opryland Welcome Desk on the lower level between the two escalators.
The hotel's shuttle is located immediately to the left as you exit the front door of the lower level of the airport.
Purchase tickets in advance HERE.

Rental Cars
There are several rental car companies within the Nashville International Airport. Find the full list with locations HERE to book a vehicle.
Click HERE for driving directions from the airport to the Gaylord Opryland.

Taxis
There are several taxi companies that will pick up on Level 1 of the Parking and Transportation Center.
View full list of companies, contact information and estimated fares HERE.

DINING AT THE OPRYLAND
---
Cascades Cafe
Cascades American Cafe serves modern versions of classic American dishes in a dramatic atrium setting surrounded by soothing waterfalls.
Open for breakfast, lunch and dinner.
Fuse Sports Bar
Watch the big game at Fuse Sports Bar, which offers more than 100 high-definition TVs and a variety of tailgate-inspired dishes.
Open for lunch and dinner.
Delta Marketplace
Perfect for on-the-go guests, our marketplace serves a wide array of coffee and beverages, breakfast items, salads, sandwiches, snacks and more.
Open for breakfast, lunch and dinner.
Conservatory Cafe
Offers breakfast, sandwiches, wraps, salads and desserts at the Magnolia entrance to the Garden Conservatory Atrium.
Open for breakfast, lunch and dinner.
Jack Daniel's
Experience the fine tradition of the great Southern food Nashville is known for and sample hand-selected whiskey from the distillery.
Open for lunch and dinner.
Findley's Pub
Findley's features an antique wooden bar and wide selection of craft beers, making it the perfect place to unwind in Magnolia.
Open for dinner.
Old Hickory Steakhouse
The signature steak restaurant features 1855 Black Angus Beef seared to perfection, plus artisan cheeses and an extensive wine list in Delta Atrium.
Reservations required | Dinner only
Ravello
Enjoy an Italian dinner inspired by the coastal city of Ravello on the lower level of our Garden Conservatory Atrium.
Open for dinner.
Paisano's Pizzaria & Vino
This festive yet casual restaurant serves up Tuscan-style pizza and pasta, freshly baked bread sticks and fresh salads on the Delta Island.
Open for lunch and dinner.
Stax
Create a juicy, one-of-a-kind burger or sandwich just the way you want it when you choose the size and sides at this restaurant on the Delta Island.
Open for lunch and dinner.
Solario Cantina
Enjoy bold Mexican flavors, signature margaritas and more than 100 tequilas. Located in Garden Conservatory Atrium.
Open for dinner.
Wasabi's Sushi
Japanese-style sushi and a broad selection of sake and beer served amidst swimming koi and soothing waterfalls inside the Cascades Café.
Open for lunch and dinner.
Cocoa Bean Coffee House
Choose from premium coffee drinks, fresh bakery and pastry items, and gourmet sandwiches at our signature coffee bar overlooking the twin falls in the Cascades Atrium.
Open for breakfast and lunch.
The Falls Bar & Lounge
Enjoy a tapas-style menu, wines, hand-crafted cocktails, bottled beer and chilled champagne in a breathtaking setting overlooking twin waterfalls.
Open for lunch and dinner.
Delta Frozen Yogurt
Pick your frozen yogurt and pile on the toppings to create a one-of-a-kind sweet treat. Located in the Delta Atrium.
Bravo Gelato
Satisfy your sweet tooth with Italian gelato. Located at the Magnolia entrance to the Garden Conservatory Atrium.
Conservatory Wine Bar
Conservatory Wine Bar offers a diverse selection of domestic and international wines in a sophisticated, chic setting. In the Garden Conservatory Atrium.
Open for dinner.
Library Lounge
Sip on classic and modern cocktails, cognac, whiskey, wine or beer at this unassuming yet decidedly upscale speakeasy. Located in Old Hickory.
Open for dinner.
American Craft Tavern
Taste authentic American beer, wine, whiskey and snacks in a modern, industrial themed bar setting. Located in the Delta Atrium.
Open for dinner.