Savanna "Savvy" Sparks
---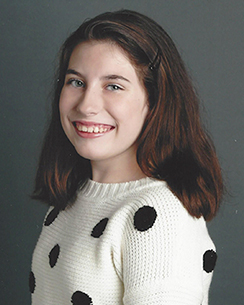 My name is Savvy Sparks and I have a passion for helping people, like me, who have a myofunctional disorder. I have Upper Airway Resistance Syndrome which was researched and identified by tonight's Award recipient, Dr. Christian Guilleminault. I am so thankful for his pioneering work because I have spent five years going from doctor to doctor, specialist to specialist, who all told me I had exercise induced asthma. We even went to the world's largest medical center in Houston, Texas to see the world renowned pulmonologists there. They told me I was a mystery. They didn't see that my upper airway was only 20% to 50% of normal. They only looked at my lungs. The inhalers I received did not help. Slowly, my breathing has become worse and my energy has eroded. My dreams and aspirations began to disappear, too, as I realized I couldn't keep up with my friends anymore. I couldn't run with them and my brain sometimes felt foggy. I don't want anyone else to go through this.
Last March, at the age of 13, a new dentist from Seattle, Dr. Brian McKay, sent me to see Dr. William Hang. Dr. Hang introduced me to an entire team who can help me. It is the first time I have felt completely understood. Joy Moeller is helping me prepare for double jaw surgery this December. Post-surgery, she will help me restore my chewing, swallowing, breathing, and basic upper airway functions. Patrick McKeown will coach me to breathe through my nose. I've never been able to. Dr. Larry Wolford has told me that I will breathe, for the first time in years, fully, within just hours of waking up from my nine-hour surgery. I have hope again. I am getting my life back. My dreams and aspirations are returning and I am excited about what lies ahead. Now, I want to help, too, so I have created The Savvy Fund at the AAMS in order to help all those who need to be diagnosed and receive treatment, around the world, for myofunctional disorders. Please join me today, and donate to The Savvy Fund. Together, we will help others restore their dreams, their lives, and their well-being.
Please join me and give generously to the AAMS and The Savvy Fund. Thank you.
Savanna Savvy Sparks
---